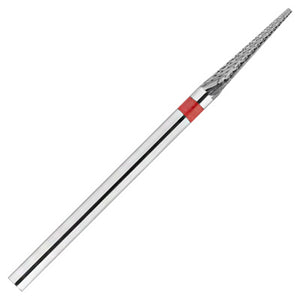 Nail Drill File Bit NEEDLE SHAPED
Professional e-file bit for manicure and pedicure
Use for Electric Drill Machine Manicure Pedicure Tool
3/32" Shank cone safety nail drill bit
Medium fine - red bend
It is convenient for high efficiency and stable performance professional manicurist. Cuticle clean carbide bit for under nail cleaner, 
Applicable to natural nails and all gel nails, such as gel nail polish, poly extension nail gel, dipping powder, extension nail gel. 
Nail Drill: 
For cleaning under the nail, filing and shaping around the cuticle area. Use on acrylic, gel, fiberglass and silk nails. For Removing designed to remove dusts and bulks under the nails, trimmer and removing bulk. 
Fast and efficiency for nail preparation and save time. Can reach the cuticles and sidewalls without damage to your nail and skin.
Made in Russia
FEATURES:
- Fast and efficiency results for nail preparation, smooth, gentle and safe, creating less dust 
- Sturdy and long lasting
- It works perfect, even on a high speed
- It could be used on both left and right hand equipment
- Can be cleaned with disinfectant and placed in an autoclave
- Suitable for professional use. High quality professional salon product. 
Lightweight nail drills are sturdy and durable, practical, long service life. 
Made of Stainless material.
PACKAGE INCLUDES:
1 x Nail Drill File Bit