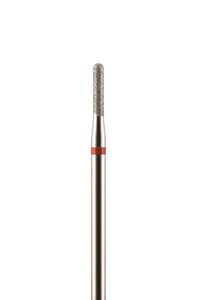 Diamond Nail Drill File Bit CYLINDER
Professional e-file bit for manicure and pedicure
Small Barrel 
Burr Smooth Top Cuticle Cleaning 
Bit for Electric Drill Machine Manicure Pedicure
3/32 inches shank diameter fits most rotary nail drill machine
Used for: Cuticle and skin cracks removal during manicure or pedicure.
Cylindrical diamond bit for nail prep and exfoliating the eponychium.
Round top safety bit for nails cuticle cleaning, dead skin or callus removal.
Abrasive Medium - fine - red.
Suitable for nail techs, nail salons, nail art school and personal use at home.
Diameter 2.1mm
Made in Russia
FEATURES:
- Use to remove dead skin; creating less dust with little friction and heat
- It works perfect, even on a high speed
- It could be used on both left and right hand equipment
- Suitable for professional or home use
PACKAGE INCLUDED:
1 x Cuticle Cleaning Bit